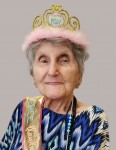 September 3, 1912
-
March 9, 2019
Born in Farrell, PA
Resided in

Cincinnati

,

OH
Obituary
Victoria Jordan
(née Russo), 106, died peacefully on Saturday morning, March 9, 2019, at Carriage Court of Kenwood in Cincinnati, her home for the past six years. Beloved family and friends were by her side.
Victoria is survived by her loving children: Joe Jordan (Chris), Carol Jordan Hirsch, and David Jordan (Fay); Grandchildren: Keir Gallite (Cheryl), Jackie Jordan (Ted Plonchak) and Phillip Jordan; and Great-grandchildren Keegan Gallite; Sofia Plonchak and Maya Plonchak. She is also survived by several generations of loving nieces, nephews and friends.
Victoria was born September 3, 1912, in Farrell, Pa., to Carmeline "Carmel" Bartalone and Fioravanti Guiseppi "Joe" Russo. Joe emigrated from Italy to the United States through Ellis Island on June 1, 1906. On July 7, 1910, he married Carmel, whose family had also recently emigrated from Italy. Victoria was their middle child. Older sister, Harriet, was born in 1911; younger brother, Rocco, was born in 1914. Sadly, Carmel died in childbirth in the spring of 1915. The three children then lived variously with their single father and other family members. Victoria became an excellent cook and had fond memories of living and cooking with her Grandmother Bartolone.
Victoria moved to Sharon PA after completing school, where she cared for two elderly sisters in the lovely home of a local doctor and his schoolteacher daughter, Helen Reed.
Victoria met her future husband, Joseph Jordan, at a dance at the Yankee Lake Ballroom in Ohio, not far from Sharon. Both had a passion for dancing which they enjoyed for the rest of their life together.
The couple married in 1933 and made their home in Warren, where Joseph was already established as an exceptional tailor. Within two years, Joseph purchased a shop in downtown Warren which became Jordan Dry Cleaners. Victoria's sister, Harriet, lived with them for a time in the early years. Sadly, their first child, Joanie, died of meningitis at three years old. Their son, Joe, was born in 1942, daughter Carol in 1943 and son David, a happy surprise, in 1949. All the children were raised in Warren and attended Catholic schools, completing high school at St. Mary's/John F. Kennedy before leaving for college.
In 1943, Joseph volunteered and was accepted by the Army Air Forces. But before he could serve, a rule was put in place that prohibited anyone over 30 or who had two children, to enlist. In the meantime, Joseph's business grew. He hired a partner, opened another shop, and trained several nephews in the trade.
Although Joseph enjoyed swimming and water skiing and the couple enjoyed golf together, Victoria's life centered on family, church and community. The family was very active first at St Mary's, then at Blessed Sacrament Catholic Church. Joseph belonged to the Knights of Columbus and Victoria to the Altar and Rosary Society, and both led and supported many other church-related activities.
Victoria busily shepherded her children through sports programs, piano and dance lessons. When the children were older, she took up playing bridge and doing charitable work such as volunteering at the local hospital as a "Grey Lady" and running the hospital gift shop. She continued organizing bridge groups wherever she lived and played until she was 101.
Two days after his sixty-fourth birthday, in the autumn of 1973, Victoria's beloved Joseph died suddenly of a heart attack while out raking acorns for the squirrels. Victoria decided to move to Sarasota, Florida, where several of her Warren friends also spent time. She very wisely enjoyed life there by showing up faithfully for cocktail hour, honing her bridge-playing skills, and attending many cultural and social events. She taught bridge at the Sarasota Neighborhood Center and to friends and neighbors; she was considered an ace player. Victoria continued to be a hostess extraordinaire at home and also travelled widely during the twenty-two years she spent in Sarasota, including surviving a plane crash in Costa Rica. When Victoria was in her late 80's she relocated to St. Petersburg, Florida, where she could be near her daughter, Carol; grandson Keir, his wife Cheryl, and great-grandson, Keegan. As always, she made good friends, had an active social life, and hosted visiting family. Most special to her there were the times she spent with her daughter Carol and her family.
At 100, Victoria returned to Ohio, to Cincinnati where her son Joe and his wife Chris lived. Her family by now was spread out all the way from New York to California, including Ohio, Florida and Colorado and points in between. Family often came to visit, and her face lit up with love and enjoyment. Each birthday was celebrated with family members reuniting to be with her and each other. Victoria's family and friends know that with her life long experience in love, compassion, and wisdom, she is well suited to embark on her next adventure.
Services will be held at a later date at All Souls Cemetery in Warren.
Memorials may be made to
Vitas Hospice Community Connection
, 255 East Fifth Street, Suite 1200, Cincinnati OH 45202.