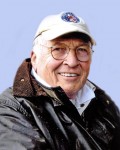 March 15, 1934
-
August 3, 2018
Born in Pittsburgh, PA
Resided in

Indian Hill

,

Ohio
Obituary
W. Scott Brinker, a longtime resident of Glendale and Indian Hill, died peacefully at home of natural causes on Friday, August 3, 2018, at the age of 84. Scott was the devoted husband of the late Dede (Sawyer) Brinker, a stepfather to her four sons Edward, William, Robert and Henry and the father of two sons, Bill and Tom, by his first marriage to the late Barbara Dixon Brinker of Western Springs, IL. In recent years Scott devoted his love and time to the partnership he cherished with Sherry LeBlond, also of Indian Hill. He is survived by 5 of his 6 sons, having been preceded in death by Henry. He is also survived by all 6 of his grandchildren, whom he adored.

Scott was born in Pittsburgh on the Ides of March in 1934 during the Great Depression. He was the middle of three children born to Dorothea Anderson Brinker, a daughter of Swedish immigrants and William Earle Brinker, a Chemical Engineer. The family moved to Evanston IL in 1940 where Scott spent a happy childhood before graduating from Evanston High School in 1952. He went on to earn a Bachelor of Science degree from the University of Illinois in 1956 and soon after joined the US Navy where he served for 3 years. In June of 1958 Scott married Barbara Dixon and two years later he left the Navy, moving back to her hometown to raise the family they had begun. Scott took a promising sales position at US Steel in Chicago, but tragedy soon struck with Barbara's cancer diagnosis. She died in 1965.

The following year Scott was transferred to the Manhattan office of US Steel. He and the boys lived in nearby Chatham NJ until his reassignment to Cincinnati in 1969 where he met and married the second love of his life, JoAnne DeMarse Sawyer, known as Dede. Their newly merged family lived for 5 years in the Old Stable on Old Stable Road in Indian Hill until Scott was again transferred, this time to US Steel headquarters in Pittsburgh. The family lived in the hills near Sewickley as the kids left for school and Scott worked downtown as Sales Manager of the International Division.

Scott went on to live in Cleveland with Dede and Tom for a few years before he finally left US Steel. In 1987 he and Dede moved back to Cincinnati as empty nesters to start a renewed life together. Scott relished the variety of business challenges he encountered in his second career as a real estate developer with Henkle, Schueler and Associates. There he crafted the development of many unique commercial, industrial and residential properties near Cincinnati and Dayton for 20 years, while growing ever more fond of his role as a grandfather.

In 2007 Scott retired from business and focused on his other interests. He traveled more and took a great many college classes in history, politics, architecture, and art. He spearheaded a major renovation of The Glendale Lyceum and worked on his golf and bridge games while attending performances of his favorites at the Cincinnati Opera. In later years he spent much of his time assisting with Dede's declining health until she passed away in April of 2012, even as Scott was fighting for his own life against the same pulmonary nemesis.

His improbable recovery allowed him to pursue these lifelong passions for 7 more good years, sharing them with friends and family while watching the kids and grandkids grow, and cherishing each moment of the loving partnership he had created with Sherry.

All in all, it was a charmed life.


A Memorial Service will be held at the Camargo Club in Indian Hill on Sunday, August 26th at 11:00 am.

In lieu of flowers please consider making a donation in memoriam of Scott to Cincinnati Opera or the Cincinnati Zoo. He would surely appreciate it.
Services
Memorial Service
Camargo Country Club
8605 Shawnee Run Rd
Indian Hill
,
Ohio
45243
Charities
Cincinnati Opera
1243 Elm Street
Cincinnati, OH US 45202
With many quality sources for HIV information on the web, people can easily become confused searching through this maze of sites; and still not find the information they are looking for. AIDS.ORG eases this confusion by guiding people to the best information available; whether that information is on a government web site, something written by a community agency, or something that we publish.

payments.auctionpay.com/ver3/?id=w013123
Cincinnati Zoo & Botanical Gardens
3400 Vine Street, att'n Developement
Cincinnati, OH US 45220-1399