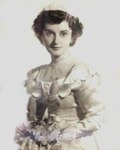 Marguerite
"Peggy"
Mooney
August 19, 1928
-
July 31, 2016
Born in Albany, NY
Resided in

Cincinnati

,

OH
Obituary
Marguerite "Peggy" Mooney (nee Walsh) left her loving family and friends on July 31, 2016, nearly 88 years after her birth in Albany, NY on August 19, 1928. Her father Tracy Walsh served as an ambulance driver in France in 1918 with the 80th Division of the U.S. Army in the American Expeditionary Force. Tracy was injured in the final battle of the Great War, but recovered and return to open a business in Albany. Peggy's mother Marguerite Conroy was a City of Albany employee for many years. Both Tracy and Anna were cogs in Albany's well oiled Democratic political machine, which was overseen, from 1921 into the 1970's by legendary party boss Dan O'Connell, a family friend. This may explain why her children and grandchildren have not strayed far from their Grandparents' partisan roots, even after Peggy moved with her family to Greater Cincinnati in 1964.

Peggy married Donald J. Mooney of Schenectady, NY in 1948. They had met as "pen pals" while Don served during World War II in the U.S. Army in the Pacific, participating in the invasion of Okinawa. During the occupation of Japan, Don served in Tokyo, and assisted a Catholic Chaplain from Albany. The Priest acted as match maker, kicking off the correspondence between Don and Peggy, who was a family friend. Mr. Mooney died in 2005.

Peggy was always a woman of strong opinions. As an original "Bobbie Soxer" she retained through the decades her starry eyed devotion to Frank Sinatra. She also had a soft spot for Robert Redford and Paul Newman, with whom she actually had a phone conversation in 2004 when the movie star campaigned in Cincinnati for Presidential candidate John Kerry. For arranging that call she was always grateful to her granddaughter Maureen. On the other hand, there were those Peggy could not abide and she would gladly tell you so. Woody Allen, Richard Nixon and Donald Trump were at the top of her "enemies" list.

Peggy's favorite days were spent over 40 summers at her rustic cottage at Cape May Point, New Jersey, where she would enjoy the company of grandchildren, amble daily to the beach for long conversations with friends, and tour the "Point" by bicycle before sunset. Sometimes she might even be persuaded to leave the beach on a rainy day to play the nickel slots in Atlantic City.

In fall, winter and spring, Peggy resided in Anderson Township and later Hyde Park and could be found volunteering to serve soup to the homeless in Over-the-Rhine, or volunteering to help Democratic candidates. She spent her final days at Arden Court of Anderson Township.

Peggy is survived by her son Don, Jr. and daughters Leslie (Lee) and Christine (Tina), by her grandchildren Ryan, Maureen, Ruairi, Leilah, Mark, Caroline and Nora; and by her great grandchildren Abel, Leonardo, Magnolia and Tom. Her son Tom, the former President of the Cincinnati and Ohio Federation of Teachers passed away in 2006.

The family will hold a memorial service for Peggy in Cape May Pt., N.J. at a date not yet determined.

Memorials can be sent to Circle Tail, 8834 Cary Ln. Pleasant Plain, OH 45162 or to the Tom Mooney Scholarship Fund, c/o Ohio Federation of Teachers, 1251 E. Broad St., Columbus, OH 43205.