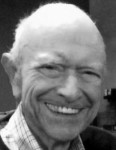 February 14, 1926
-
January 19, 2018
Born in Red Hook, NY
Resided in

Cincinnati

,

OH
Obituary
James Kirtley Lewis
was born on Whalesback (an apple farm) in Red Hook, NY on February 14, 1926. He was the son of Kirtley and Margaret Lewis. He had one brother, John, who was about a year and a half older than him. During the depression, when Jim was twelve, his family lost their farm. He and John were separated and sent to live with various relatives while his father pursued a new degree, and his mother moved in with a family to provide nursing, a field she had worked in prior to her marriage. Jim graduated high school at the age of 16 and received a full-ride scholarship to St. Lawrence University where he graduated Phi Beta Kappa in 1946. Due to his incredibly poor eyesight and despite his sense of patriotism, he couldn't serve in the military during World War II.
After college, Jim moved to NYC and began his career at Chemical Bank. He moved to Cincinnati to work at Central Trust Bank (PNC) in 1952 and received his master's degree from Stoner Graduate School of Banking in 1956. When he retired in 1989 he was the Executive Vice President of Lending and Senior Lending Officer.
Jim met Mary Biddle Lawson, and her two children Jon (Margaret) and Page (Stuart Jeffrey), in Neahtawanta. They were married on June 27, 1959. They had three children: De (Diana) (Basil Rowe), Tom (Mindy) and Molly (Jeff Streba). He had 8 grandchildren: Jono and George Lawson; Mathilde and David Tripathy; Kit and Sarah Lewis; and Roo and Cole Streba.
No matter where Jim lived, he felt a deep drive to serve his community. He was involved in several organizations as Director, Treasurer, President and/or Volunteer. These include: Cincinnati Zoological Society, Children's Protective Service, Seven Hills School, Neahtawanta Resort Association, Habitat For Humanity, Begley Drug Company, Jung Corporation, and Vulcan Corporation.
In his spare time, Jim enjoyed skiing, sailing, golfing, tennis, gardening and investing. Although Ohio is about the last place someone would consider for snow skiing, it didn't stop him. There were many family outings to the ski slope at Mansfield. In the summer Jim loved to sail. He was a familiar site at Lake Cowan in the 50's and, in Neahtawanta, on the lake there. He was an excellent sailor as evidenced by the number of trophies proudly displayed at the cottage. You can take the boy off the farm, but you can't take the farm out of the boy. Every October, Jim would gather up the kids and make the trek across town to an orchard that grew his beloved Northern Spy apples. He'd buy a bushel or two to get us through the autumn.
Mary and Jim moved to the Wilderness Country Club in Naples, FL after he retired. And, of course, he quickly became involved with the community and served as Treasurer and then President. As much as they loved Florida, they still spent their summers in Neah. Mary died in 2007 after many years of advancing Alzheimer's. In typical fashion, Jim took care of her until the end.
Once widowed, Jim met Wendy Tell, another Wilderness resident, and they eventually became partners. She added colour and joy to his final years in Florida. Among other activities, they enjoyed golfing, cooking and lively theoretical discussions. In 2014, they both decided to return to Ohio to be nearer to their families. Jim moved back to Cincinnati, and Wendy returned to Columbus.
Jim will always be remembered for his kind soul, always being a gentleman, and his extensive vocabulary. He was one of a kind, and we will miss him deeply.
A celebration of his 91+ years to be held Saturday, March 10 (11am) at the Cincinnati Country Club, 2348 Grandin Road, Cincinnati, OH 45208.
In lieu of flowers, donations may be made to the Cincinnati Zoo, Vitas Hospice (vitas.com) or the Neahtawanta Legacy Fund.
To plant a tree in memory of James Lewis, please visit our
Tribute Store
.
Services
To plant a tree in memory of James Lewis, please visit our Tribute Store.
Cincinnati Country Club
Celebration of Life
2348 Grandin Road
Cincinnati
,
OH
45208