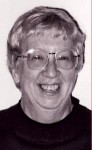 August 15, 1930
-
February 12, 2018
Born in Cleveland, Ohio
Resided in

Cincinnati

,

Ohio
Obituary
Alice Dougan, long-time Grail member, died Monday, February 12, 2018, at Sanctuary Pointe Nursing Center in Cincinnati where she had been a resident for the past year. A Memorial Mass, with Father George Wilson, will be held Saturday, March 10, 10a.m. in the Grailville Oratory, 931 O'Bannonville Road, Loveland, Ohio 45140. Memorial gifts may be made to The Grail at same address.

Born on August 15, 1930, in Cleveland, Ohio, she joined the Grail in 1956 inspired by the possibility of serving in Africa. Alice earned a Bachelor of Science in biochemistry from Western Reserve University (now Case Western University) in 1956, and a certificate in Community Development from the University of Missouri. In 1979 she obtained an MBA from the University of Cincinnati.

In 1975 Grail members were invited to write something about themselves for a publication that would have short bios and a photo of members:

"Write about yourself—sigh—again?

"One of the reasons that that isn't so easy is that I'm not really sure which of my various selves will come/go to the GA [General Assembly]. It might be the pilgrim and stranger—who still hears things in relation to East Africa—so very often doesn't really know what's going on. It might be the serious, hard-working me—that really likes balancing the books—when they balance. Or it might be the day-dreamer me—that would rather retreat from reality into a detective story or science fiction.

"In the summer of 1956 I came to a professional women's course, met the Grail, met Elizabeth Reid, and six weeks later I was in Brooklyn, at the [Grail] Overseas Institute training to go abroad. I went to Uganda, went again, and again—and somehow left pieces of myself behind. "My career path has had several turnings. When I met the Grail I was a biochemist. In Uganda I worked mostly as a group worker and a teacher. When I came back to the USA to stay, I did an MBA and became an accountant."
Alice spent 13 years in Uganda. She also spent several months in Tanzania focusing on fund raising and six months in Nigeria planning a Grail Pan Africa meeting. In the early 1970's, Alice was a staff member for CEMA [Cultural Exchange Meetings on Africa], spending time at both Cornwall Grail Center and Grailville.

After she returned from Africa, Alice served a term as International Treasurer of the Grail and was also Treasurer of the Grail in the U.S. In the mid-1970's she was one of a small group (Eleanor Walker, Ruth Gallant, Alice and Terry Marshall) that proposed the structure of the Link Team and the Lateral Sharing Group and was an integral part of its functioning for many years. Alice was also a member of the Grail's Connections Team.

Alice spent a number of years as treasurer for MDI (Management Design Institute). She retired in 1997 as financial manager for the [then] Sisters of St. Joseph of Medaille in Cincinnati.
Services
Service
Grailville Oratory
931 O'Bannonville Road
Loveland
,
Ohio
45140